RHEINZINK flat lock tiles
The reliable flat lock tile roof system made from titanium zinc
Benefits of RHEINZINK titanium zinc flat lock tiles
Individual roof surface structuring Perfectly matching production including construction profiles Tested system for improved reliability Roof system and matching roof drainage products from a single source
Flat lock tiles by RHEINZINK: Individual design for large roofs
Flat lock tile roof coverings are an excellent choice for many reasons. RHEINZINK flat lock tiles are a further development of classic square and diamond tiles especially intended for use on large-area roofs. They are specially tailored for covering larger roof surfaces and generate an attractive appearance using products in our usual high quality.
Flat lock tiles are available both as a roof system and as a facade system. This enables you to construct essential building sections for new construction projects or extensive refurbishments alike in a uniform, striking and technically perfect manner. The flat lock tile is not only impressive with regard to its visual appearance. Flat lock tiles are also called zinc tiles as they are made from zinc. They promise to provide everything that is expected of a modern roof.
RHEINZINK flat lock tiles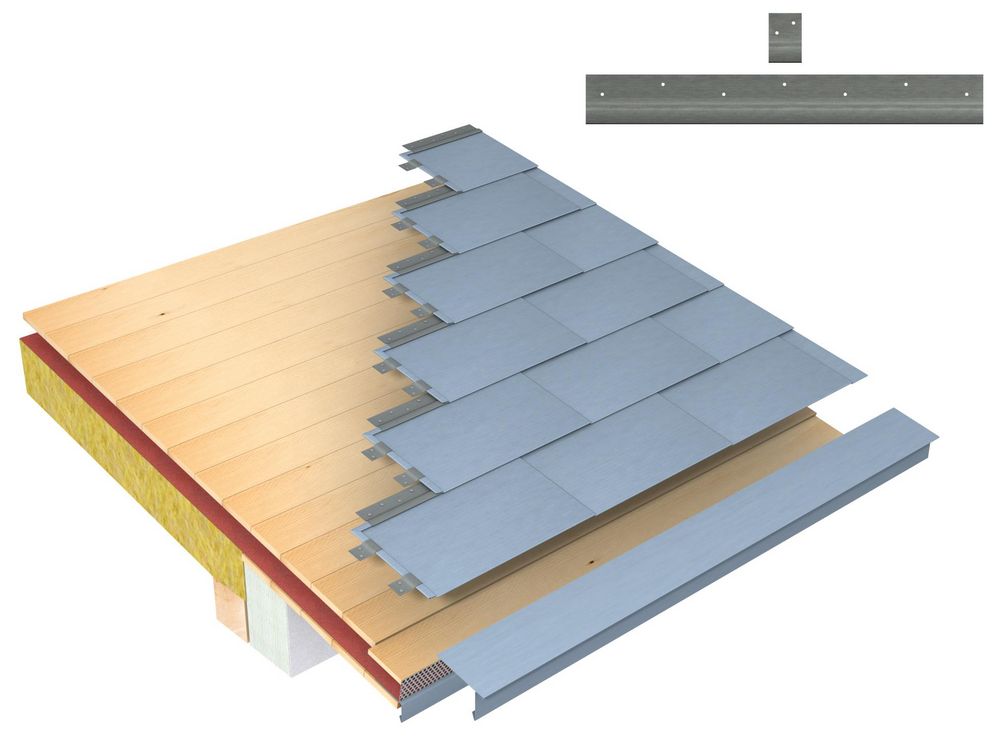 Features of RHEINZINK flat lock tiles
Nowadays, roofs and attics are truly multi-purpose. They protect us against wind and weather, provide living space and can also have an attractive appearance. Planners and architects are confronted by the high expectations of clients more and more often and need solutions with which these can be fulfilled. This is easily achieved using RHEINZINK flat lock tiles. Our flat lock tiles have the following impressive product properties:
The flat lock tiles are produced from our proven, high-quality titanium zinc. They combine an attractive appearance with outstanding functionality
The flat lock tiles are available in different forms and sizes so that suitable products are available as the basis for planning any project
The individual tiles can be effortlessly adapted to individual building sections, such as gables or chimneys, which reduces the effort of planning
Assembly is also quick and simple thanks to the refined system technology
Flat lock tiles can be used to plan and design roofs and facades from a gradient of 10°. Accordingly, they are suitable for almost all buildings. This gives you great freedom of design. The options are many and varied, from classic arrangements to individual combinations.
Surface variants for RHEINZINK flat lock tiles
Flat lock tiles planning and application
System description
From 10° roof inclination: ventilated roof structure with rainproof underlay (welded or bonded joints), underlay made from bitumen membrane with fibreglass or glass fabric insert lining in line with DIN 52143, DIN 52130 or DIN 52131 combined with a suitable structured underlay (e.g. V13 + AIR-Z) over solid wood boarding
From 25° roof inclination: ventilated roof structure with rainproof underlay (welded or bonded joints) installed directly on solid wood boarding
Our range of flat lock tiles includes tiles with a coverage area of > 0.40 m² and a construction width > 530 mm. In contrast to panels or shingles, flat lock tiles have forward folding tabs on the top and fold-backs on the bottom that enable them to be attached to fitted seam systems. The resulting reduction in seamed sections and the optimised geometry ensure sufficient rainproofing. Flat lock tiles can be produced from sheet material in numerous variations and dimensions either by hand or by machine.
Dimensions and metal thickness
Customised forms
Concave and convex rounded tiles
Tiles in different geometric forms
Tiles can easily be adapted to rounded building plans. If larger formats are used, it can be necessary to pre-round the tiles, depending on the tile dimensions and radius of the building.
Tiles can be produced in different geometric forms, e.g. trapezoidal or hexagonal.
If using these tiles, please contact our application technology department or your responsible field service consultant.
Attachment
The stability of RHEINZINK tiles has been proven using wind suction tests in line with ETAG 006 test criteria. The maximum possible construction width of flat lock tiles and required metal thickness is determined by the wind load to which the building is subjected.
We provide optimised clips and clip rolls for flat lock tiles. The individual clips (50 mm wide) and/or clip rolls (600 mm wide) are selected and arranged based on tile size and wind load.
Flat lock tiles are optimised with regard to building physics
Diverse requirements from the area of building physics play important roles for vital building sections such as the roof. Where possible, these requirements should be fulfilled using a single product. However, this is only possible using high-quality, carefully designed products such as the flat lock tile made by RHEINZINK. Fire protection, noise protection and thermal insulation are of primary importance for all types of buildings.
Correct installation is also vital to the quality of the finished component. This can be achieved particularly reliably using RHEINZINK system technology, which also protects the building from the ingress of moisture and provides matching options for integrating further components. The elements are attached using clips and perfectly matching clip rolls that are also covered by our programme. We have compiled all technical information and everything you need to know in our brochures Großrauten (Planung und Anwendung) (flat lock tiles (planning and application)) and Unternehmenserklärung Rautentechnik (corporate statement on tile technology). These brochures can be downloaded from our web page at any time.
Furthermore, our expert team can be contacted by telephone or via email for any queries or to discuss special requests. You can also view our products by visiting one of our specialist dealers or professional specialists in your region. You can easily find your nearest dealer using our online dealer and specialist locator. We look forward to hearing from you!