Metal profile cladding systems by RHEINZINK
RHEINZINK metal profile cladding systems – Benefits
Corrugated profiles have flowing wave forms with a delicate appearance

Trapezoidal profiles have striking, cool and angular lines

Horizontal, vertical and diagonal installation directions

Simple, easy assembly
Metal profile cladding systems by RHEINZINK – a real eye catcher
We supply high-quality metal profile cladding systems that can be employed as design elements and create high visual impact even from a distance. However, before you buy new profiled panels, we would like to explain the benefits that RHEINZINK profile systems will bring to your project.
Basically, RHEINZINK supplies two types of metal profile cladding systems that are aimed at different target groups:
Corrugated metal profile cladding
Trapezoidal metal profile cladding
It is important for us to emphasise the proven quality of RHEINZINK products as these elements are not only creative facade elements, but functional elements as well.
The properties of the individual metal profile cladding products and the benefits they provide are described below.
RHEINZINK metal profile cladding system program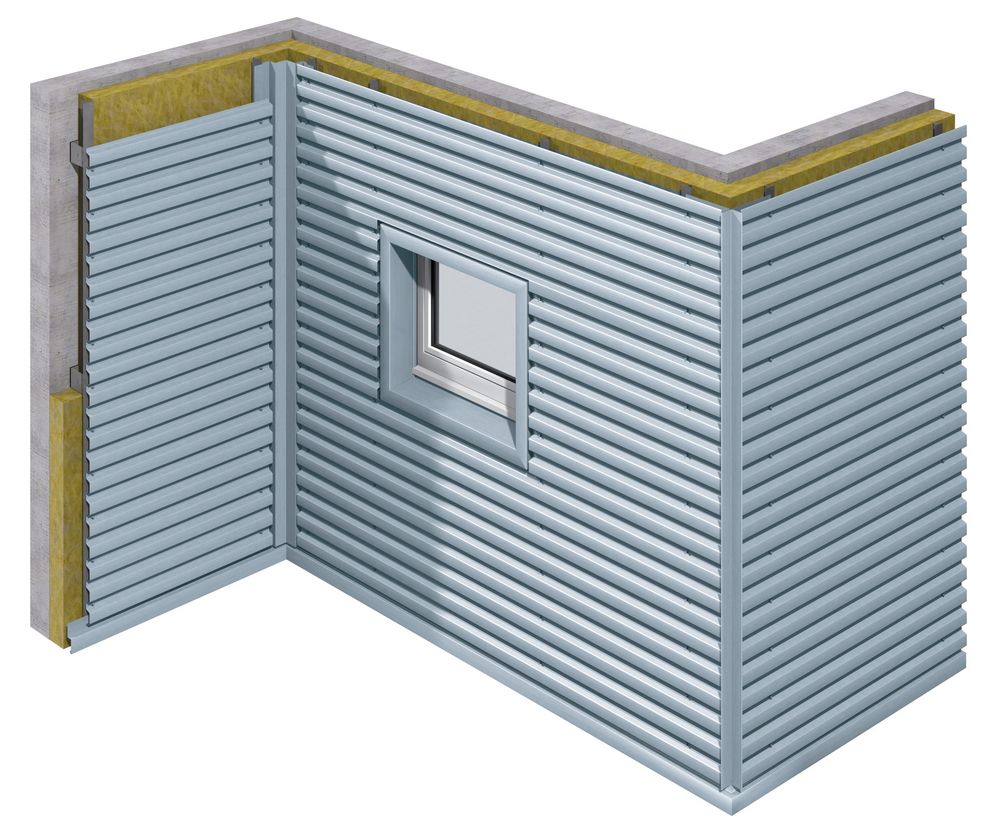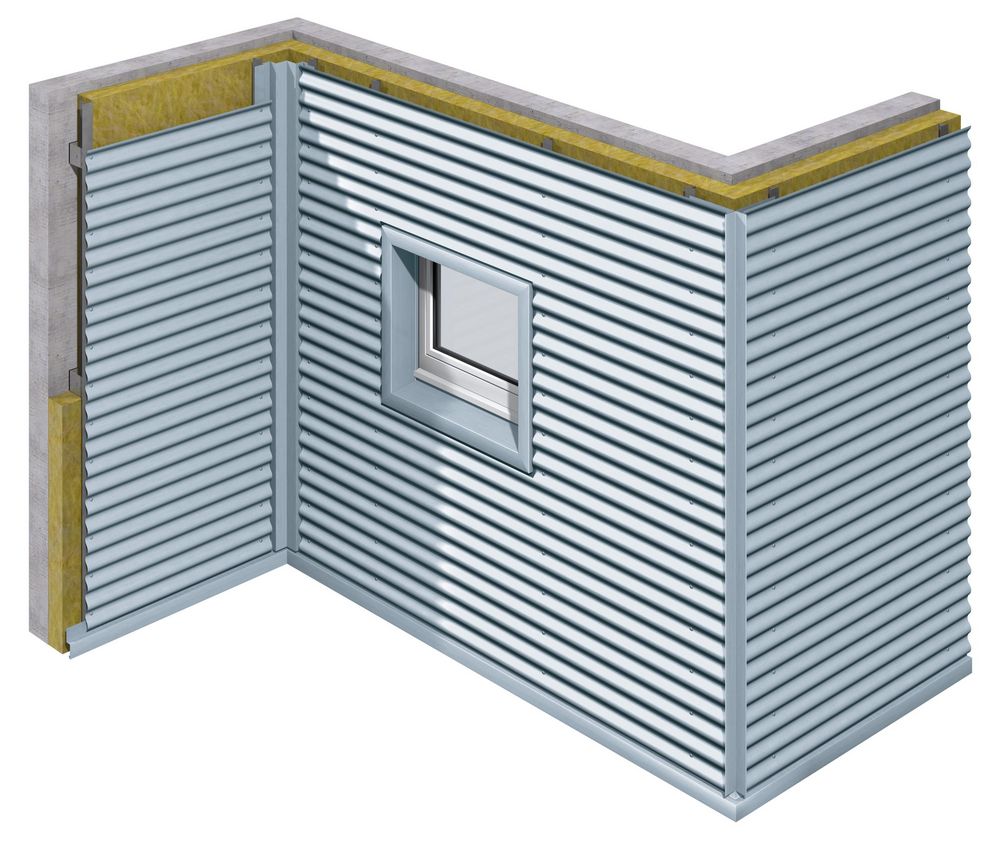 Corrugated metal profile cladding by RHEINZINK
When working with architectural features, it is always vital to preserve the form and achieve a harmonious impression through continuity of design at crucial points. RHEINZINK corrugated metal profile cladding proves that aspects of design are as significant as functional factors. It is characterised by the flowing form of the typical sine wave which enables it to give otherwise rather bulky utilitarian or functional buildings a more attractive appearance. Corrugated metal profile cladding made by RHEINZINK can be installed horizontally, vertically or diagonally. Use the practical range of sizes to incorporate further elements, such as partitions, into the facade design.
These profile systems are a form of rainscreen cladding. Once installed, they create an economical construction facade profile with two different cross sections. They can be used to equip entire buildings with long-lasting weather protection that is both effective and decorative.
Our tip: Rounded surfaces requiring a profile system as the finishing touch can also be easily created using RHEINZINK corrugated metal profile cladding. Please feel free to contact us at any time for further information.
Trapezoidal metal profile cladding by RHEINZINK
If you are looking for metal profile cladding, you are sure to find what you want at RHEINZINK. Our program includes construction profile systems aimed at a wide range of target groups and building types that will be indispensable for completing your project. We recommend RHEINZINK trapezoidal metal profile cladding for angular, clear styles. They can be arranged horizontally, vertically or diagonally and lend any building an air of practicality. Unlike corrugated metal profile cladding, that have a rather subduing effect on sunlight, trapezoidal metal profile cladding can create a range of intensely contrasting effects that can be put to impressive use.
Metal profile cladding systems of this kind can be attached directly to the substructure and so provide effective protection against the weather – in other words, this system is a form of rainscreen cladding. Quick and easy to assemble, this profile system can be used to create wall / facade cladding with a choice of two visible faces. In this way, a calm and orderly structure can be brought to the entire building, depending on how it is positioned in the surroundings.
RHEINZINK metal profile cladding systems – surface variants
Metal profile cladding systems – planning and application
System description
Horizontal, vertical and diagonal installation

Visible attachment
RHEINZINK panel systems are suitable for buildings with a modern, technological appearance, such as commercial or industrial buildings. They can also be used to clad small surfaces such as balcony parapets and are easy to install, long-lasting and available in a variety of designs. They are often used in combination with other types of cladding.
Both trapezoidal profiles and corrugated profiles can be installed horizontally, vertically and diagonally. Either the A side or B side of trapezoidal profiles can be used as the visible face. This results in a wide variety of design options.
Dimensions and metal thickness
The geometry of trapezoidal profiles is ribbed whereas corrugated profiles are shaped like waves. Two different cross sections are available for either version:
Trapezoidal profile: T 25/88-700 and T 25/128-768
Corrugated profile: W 18/76-836 and W 27/111-778
Metal thicknesses 0.8 and 1.0 mm
Standard lengths 2000 mm to 4000 mm
Max. deliverable length 5000 mm
When directly attached, length variations of the profiles are compensated by limiting the facade panel size to max. 4000 mm and by adjusting the substructure. This applies to applications using multi-part, metal substructures.
The resulting horizontal or vertical joints can be given different designs using, for instance, cornice or pilaster strip profiles.
Corrugated metal profile cladding – customised forms
Attachment
RHEINZINK profile systems are visibly attached to the metal substructure in the bottom bead using rivets or self-drilling screws. The required spacing of the substructure depends, amongst other things, on the wind load, the type of support structure, the structural system and the load bearing capacity of the cladding and requires appropriate structural analysis.
On request, we can provide information on profile load-bearing capacity and a corresponding wind load table.
Questions about our profile systems? We're happy to help!
At RHEINZINK, we aspire to provide you with the best possible basis for making project decisions. We are a renowned service provider and supplier of various construction elements that enable you to fulfil your customers' desires. Further information on our profile systems can be found in the facade cladding brochure.
You can reach us by telephone or email. Resolve the most important questions without hindrance and continue planning – with profile systems made by RHEINZINK, you are investing in proven quality and long-lasting function.