Roofing accessories for RHEINZINK roofing systems
For quick, easy and secure installation
In addition to our coordinated system solutions, we also provide matching roofing accessories. We also recommend roofing accessories from other suppliers that are tailored to our systems. These include, for instance, the fall arrest system made by Pohl or the HEUEL snow guard system.
Overview of our roofing accessories
Roofing accessories – Snow guard systems
Necessity for snow guard systems
Snow guard systems are roofing accessories used for reasons of road safety and to protect pedestrians from falling snow and ice loads. Snow guard requirements are regulated by regional building regulations. Roofing accessories for preventing falling ice and snow for reasons of road safety may be mandatory depending on roof inclination, height above sea level and amount of snowfall. The decision of which snow guard system version to use depends on the buildings' purpose, e.g. place of assembly or public building, and is ultimately always in the hands of the owner.
Types
Roofing accessories – S5 Snow guard system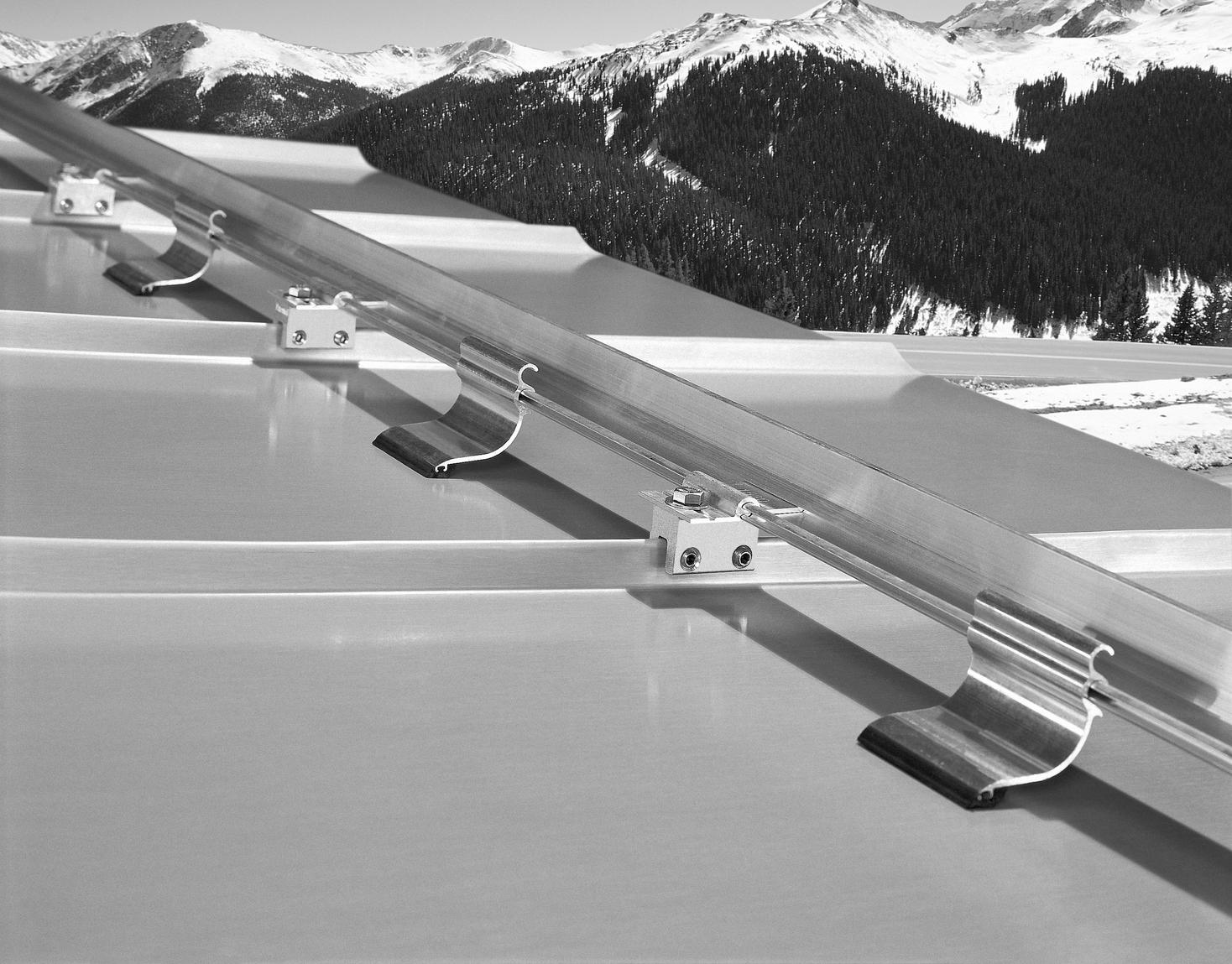 The aluminium RHEINZINK S5 snow guard system is a roofing accessory design variant that combines high load-bearing capacity with an attractive appearance. The robust guard rail is clad in the same RHEINZINK quality as the roof. The roof and snow guard form a single unit that satisfies the highest aesthetic standards.
Advantages at a glance:
Uniform material surface for an attractive appearance
Snow guard rail clad with RHEINZINK
Slender design yet high load-bearing capacity
Rapid and simple assembly
No roof penetrations required
Suitable for diagonal installation (e.g. in valleys)
Consists of three perfectly matched system components: S5 snow guard clamp, S5 snow guard rail, S5 ice guard
Alternatives
We recommend using roofing accessory snow guard systems that are attached to the seams using special clamps. A pipe of sufficient size and bending-resistance prevents snow lying on the roof from sliding off.
Structural predimensioning of the S5 snow guard system
We provide a structural predimensioning service in line with DIN EN 1991-1-3 (Eurocode 1: Actions on structures – Part 1-3: General actions – Snow loads) for simple roof geometries. To do so, we require the following data:
Snow load zone (1, 1a, 2, 2a, or 3)
Height of the site above sea level
Roof inclination
Rafter length including roof overhang
Panel width/centre distance
Please submit this data to your responsible field service contact.
Roofing accessories – SM snow guard system for click rolls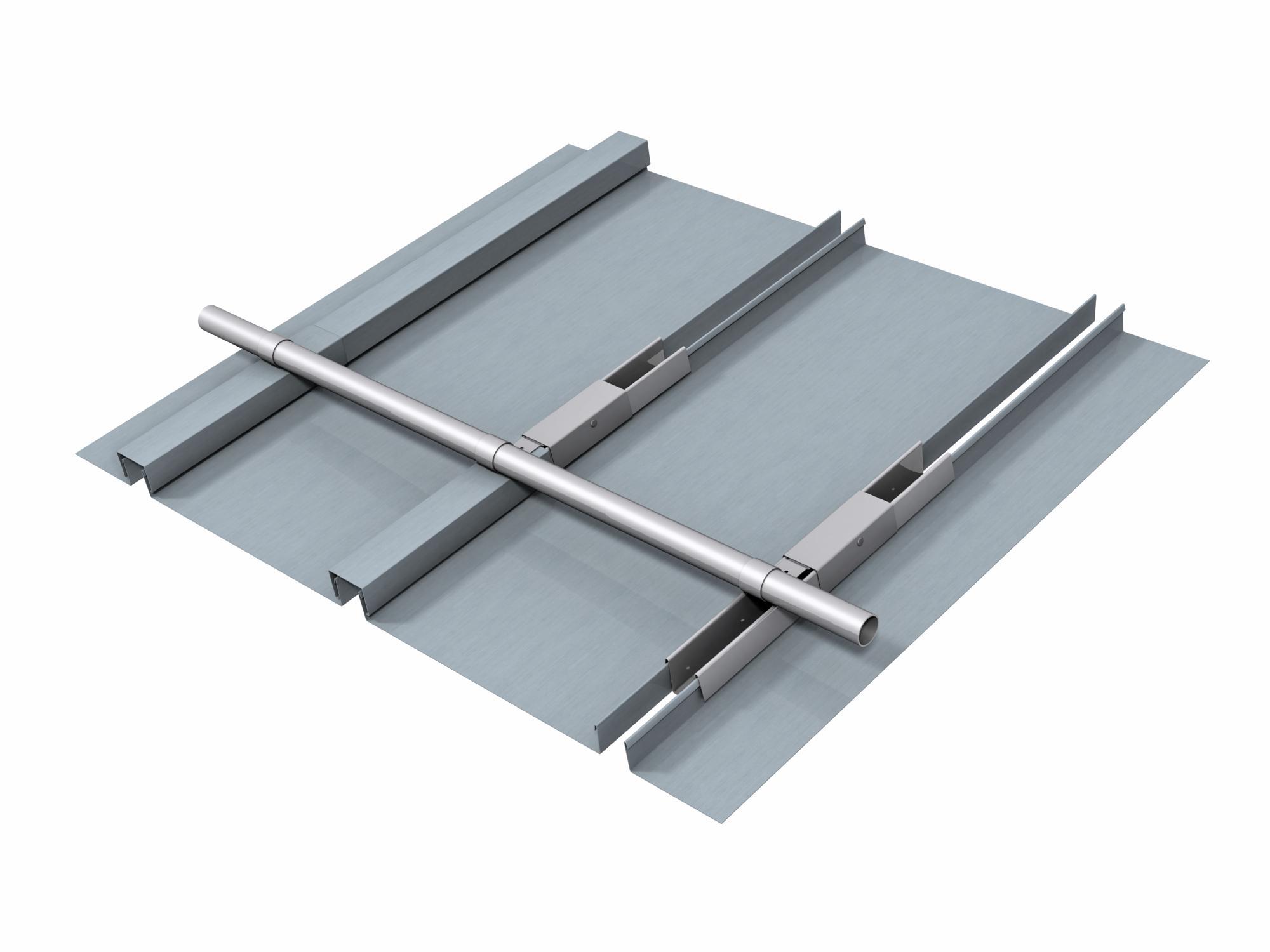 We have developed a snow guard system especially adapted to click roll roofing in collaboration with SM Befestigungssysteme. It consists of a one-piece snow guard tube bracket and ice guard.
Roofing accessories – HEUEL snow guard system
HEUEL systems are suitable for RHEINZINK tiled roofing. They consist of an aluminium die-cast panel directly attached to the softwood boarding using stainless steel drywall screws and an overlapping panel with circumferential rubber seal. Two threaded bolts are attached to the lower plate for mounting the steps. Corresponding cut-outs are made in the roofing. The EPDM seal of the upper panel seals the cut-out in the panel. This ensures that the panel can move below the EPDM seal.
Detailed information, installation instructions, test reports, delivery conditions and prices for roofing accessories can be obtained directly from Heuel:
Josef Heuel and Söhne GmbH
Am Lindhövel 3
59846 Sundern-Hachen, Germany
T: +49 2935 9666-0
F: +49 2935 9666-60
info(at)heuel.de
www.heuel.de